April 2018: Rochelle Rossouw
Rochelle Rossouw

– A little out of my comfort zone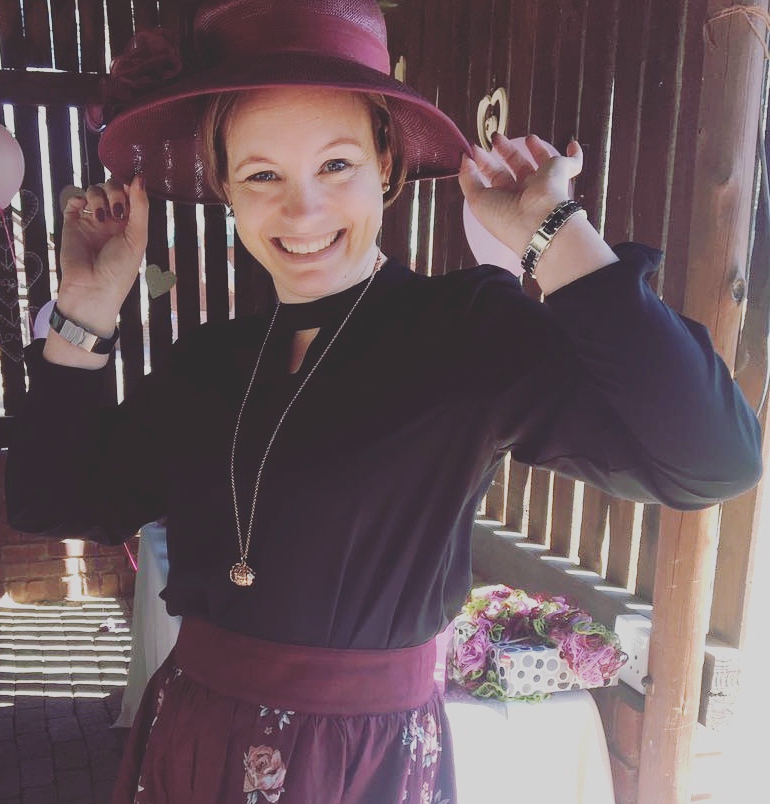 Goeiedag. Hoe gaan dit? (That's Afrikaans for "Good day. How are you?) I am Rochelle Rossouw and I am 40 years old. I am married to my superhero, and we have four beautiful children ranging in ages from 11 to 16 years old. Yep! A house filled with preteens and teenagers! We live in sunny South Africa in a city called Pretoria. I work at our church full time as an accountant.
I have never felt incredibly artistic and my personality type is that of a typical accountant if there is such a thing, I like order and symmetry and balanced reconciliations, a bit of a perfectionist, you might say. So when my hubby happened upon a monthly "bible journaling" class advertisement at a local scrapbook store in June 2017, I was curious and very nervous all at the same time about something I thought would completely push me out of my comfort zone. That is, however, exactly what my relationship with God had become – a place of comfort – praying and reading when it was comfortable.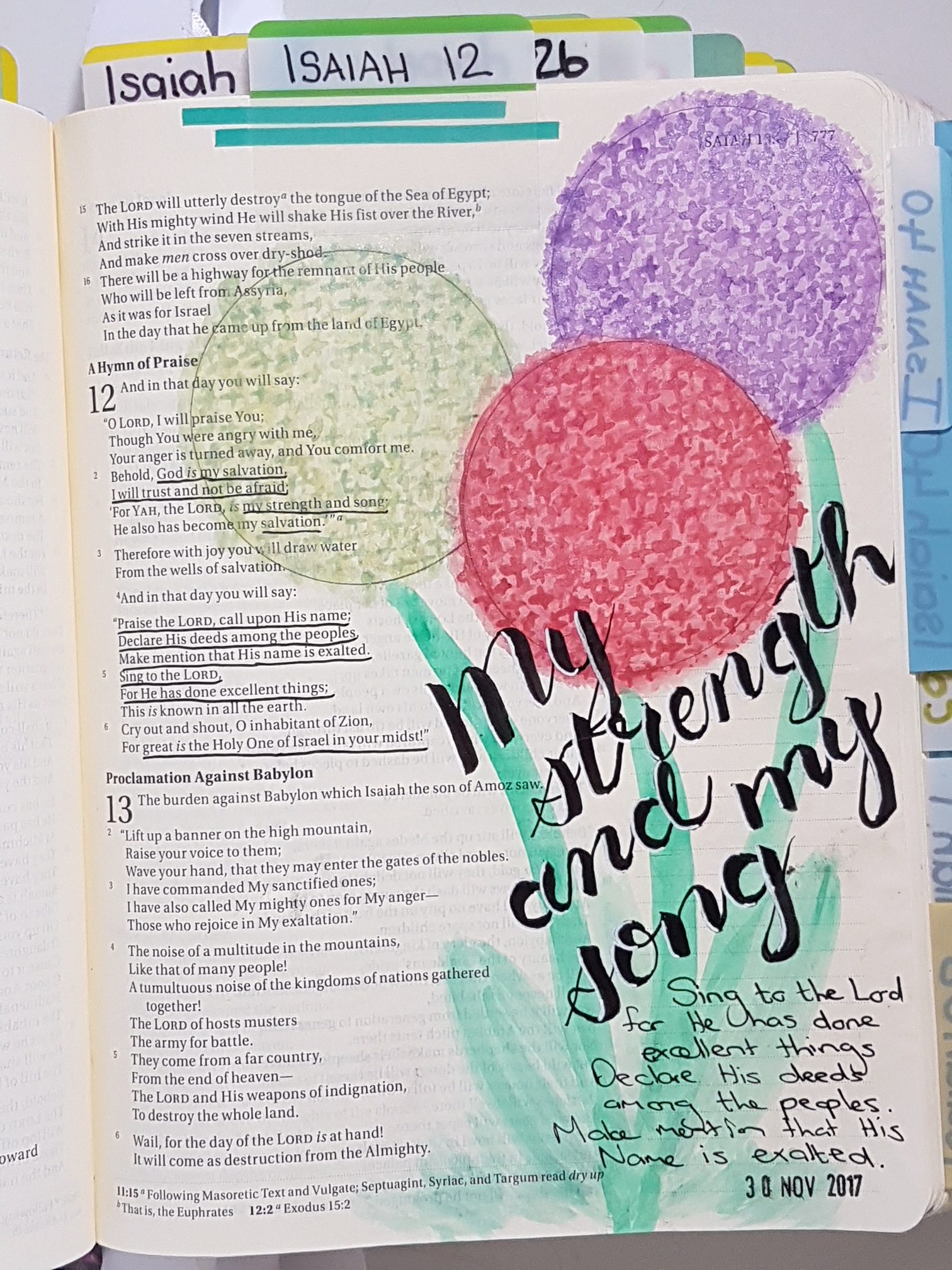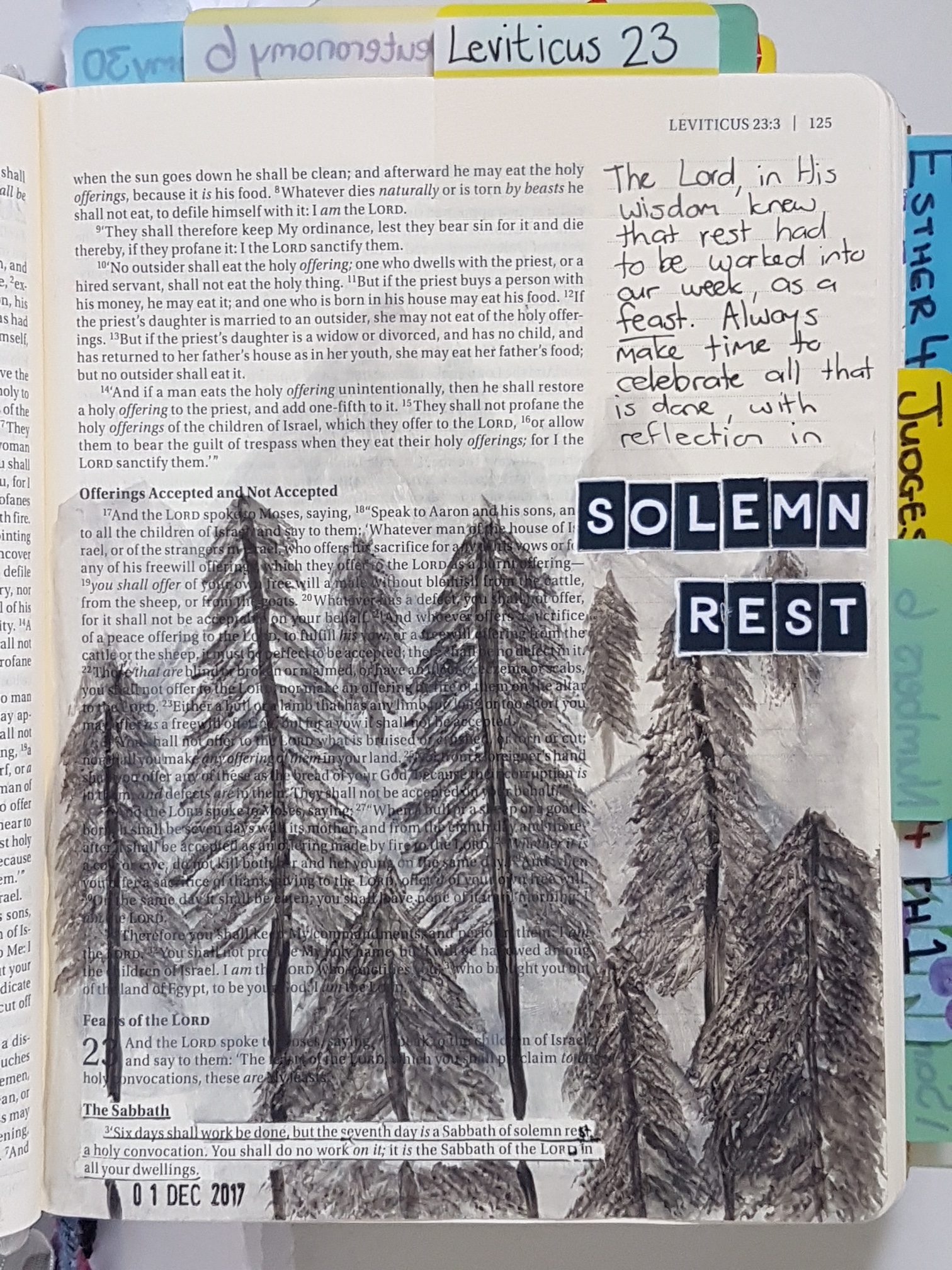 After battling with an undiagnosed nightmare of a disease for about 10 years, I was diagnosed with Rheumatoid Arthritis in 2014. I thought I was losing my mind for a while. In my personal life I was struggling with my identity and searching for peace.
While I was still in a back brace, recovering from major back surgery and awkwardly moving around I went to this "bible journaling" class and sat there completely overwhelmed at what I saw people do in their bibles – using napkins and modge podge, writing and coloring, stickers and ribbons and tabs.
That night, at home I started my first #Biblejournaling search across all my social media platforms, and it was probably the most beautiful thing I had ever seen. I saw that there was a whole community out there coloring in their Bibles and painting beautiful pictures and writing in beautiful script. My 40th birthday was coming up that July, and when anyone would ask me what I wanted for my birthday, I would quickly blurt out, "A journaling bible" and I would list the art supplies I had seen my new found inspirations on YouTube use.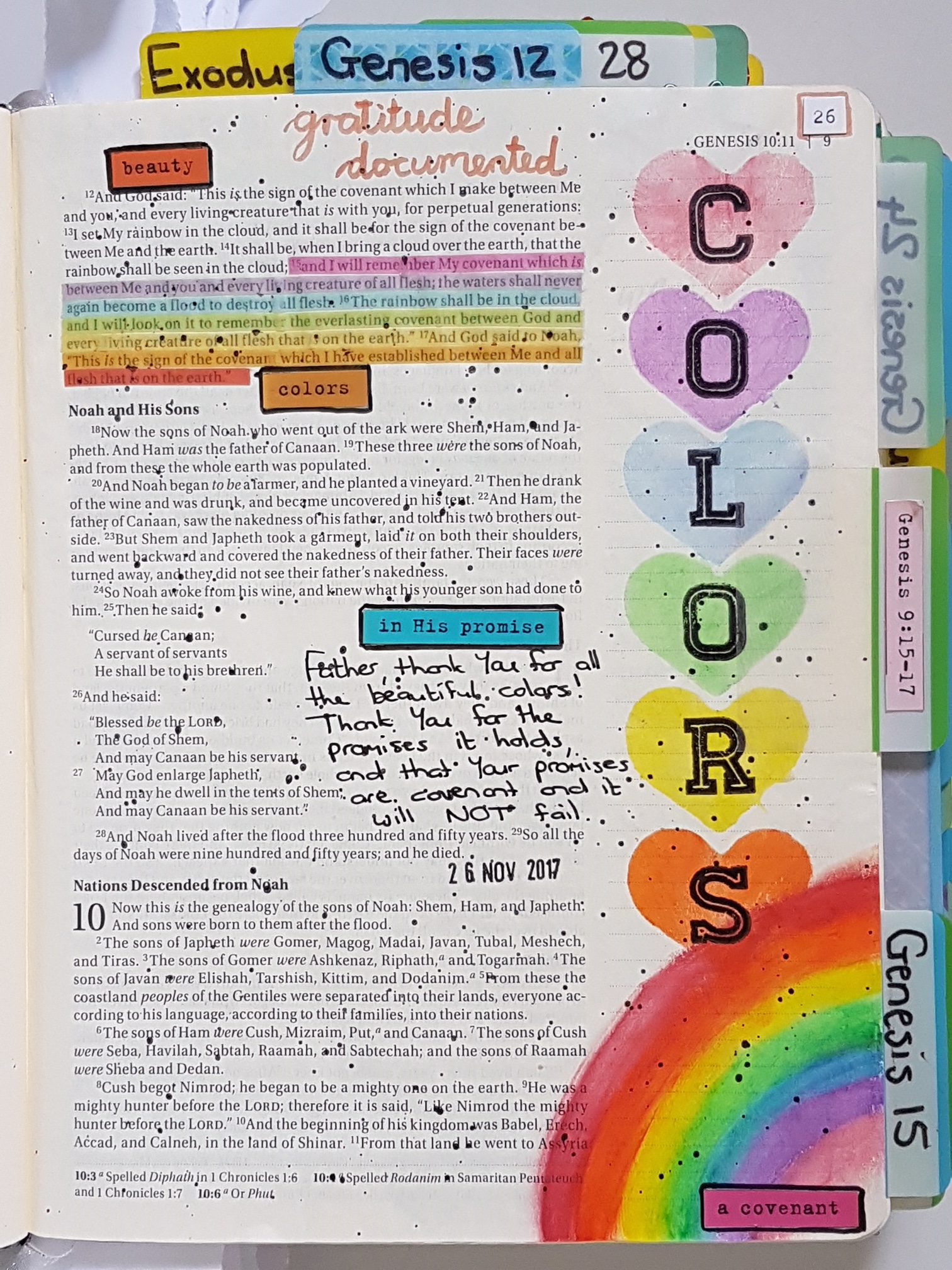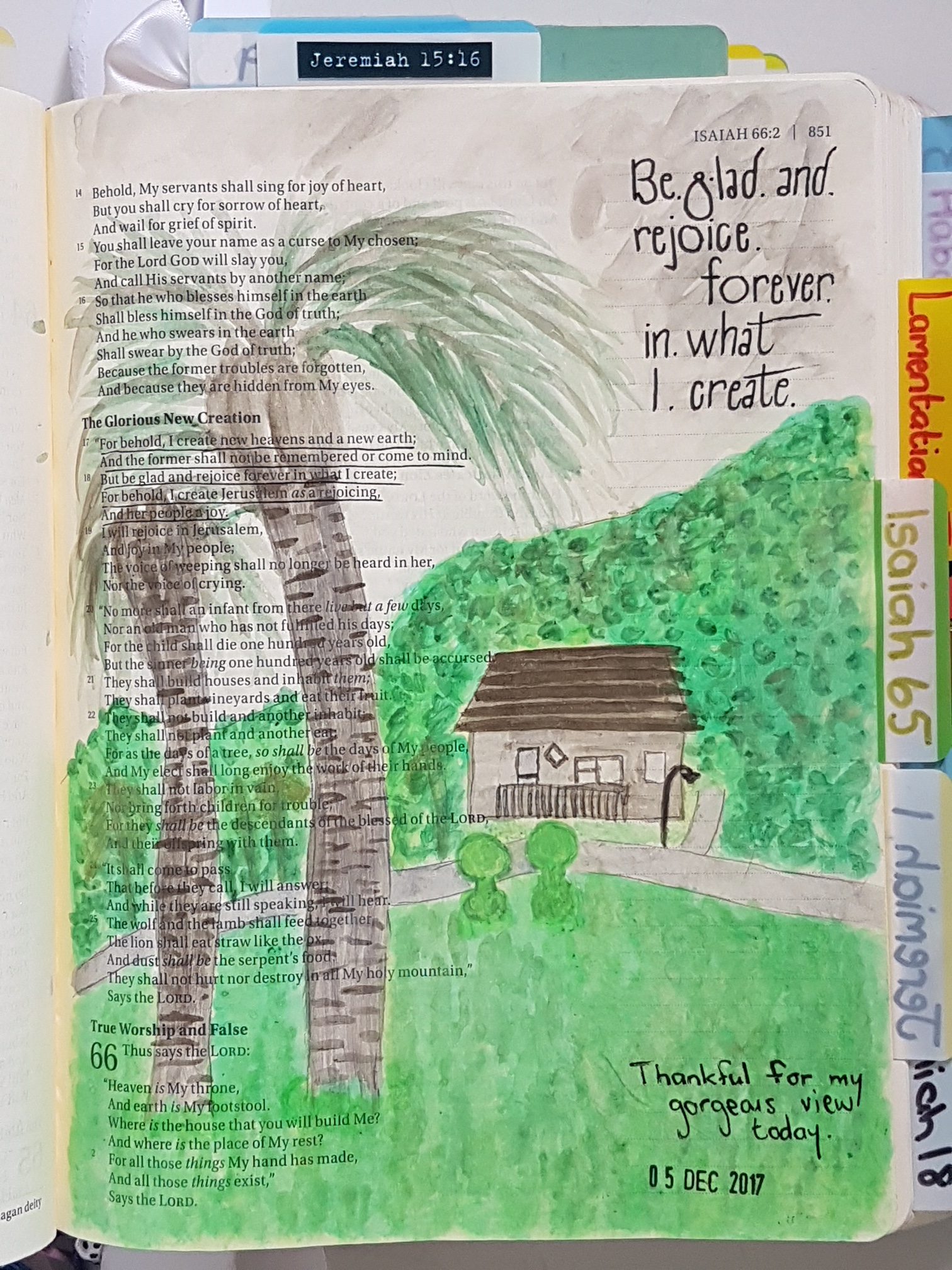 Now South Africa is not exactly the United States in it's variety of stores and supplies and ease of online ordering, and shipping anything, anywhere, at any time can be quite expensive! So I learnt a very important lesson. DO WHAT YOU CAN WITH WHAT YOU HAVE. All that God is looking for in my time with Him is me giving my best – all of me connecting with all of Him. I have never in my 40 years on earth found the Word as wonderfully peaceful as I do when I spend it Bible Journaling. I have been able to recall the Word like never before and it is amazing how it is always in season and relevant. I have loved every minute of stamping, painting, writing and placing stickers and washi tape, of reading and working through devotionals, and of finding my way back to the heart of Jesus and His love for me and others. I cherish the very special time I have with sisters who worship in the same way when we have our monthly study. I have found a place of peace when hospital days come around for treatment for a disease I don't fully understand, where instead of packing necessities, I find my hospital suitcase filled to the brim with paint brushes and other fun art supplies. I have bought all 3 of our daughters a journaling Bible too. I consider the days spent around the dining room table, as the cold winds blow and the rain hits the window panes, and my girls and I journal in our Bibles together, as one of the most valuable gifts ever.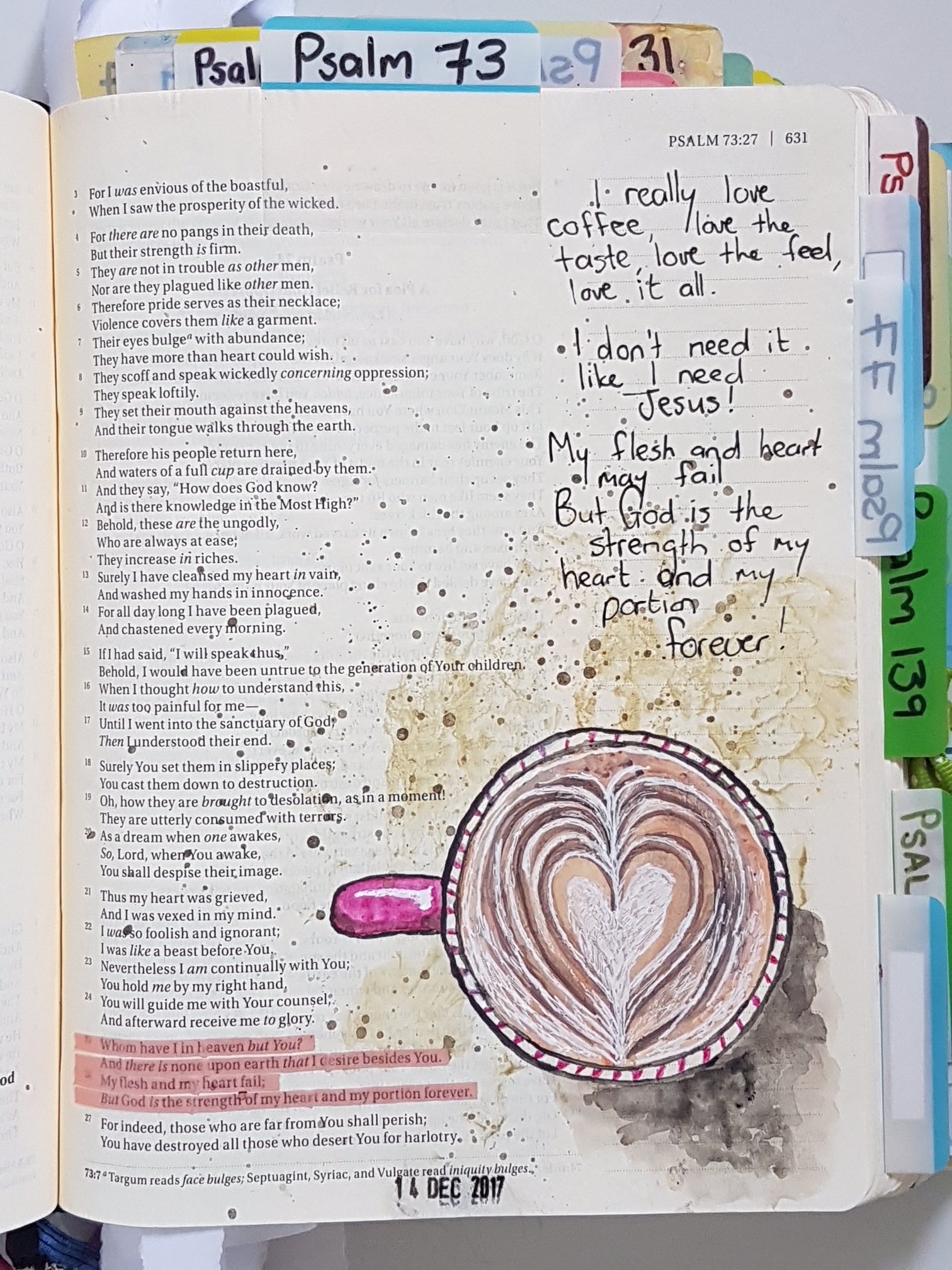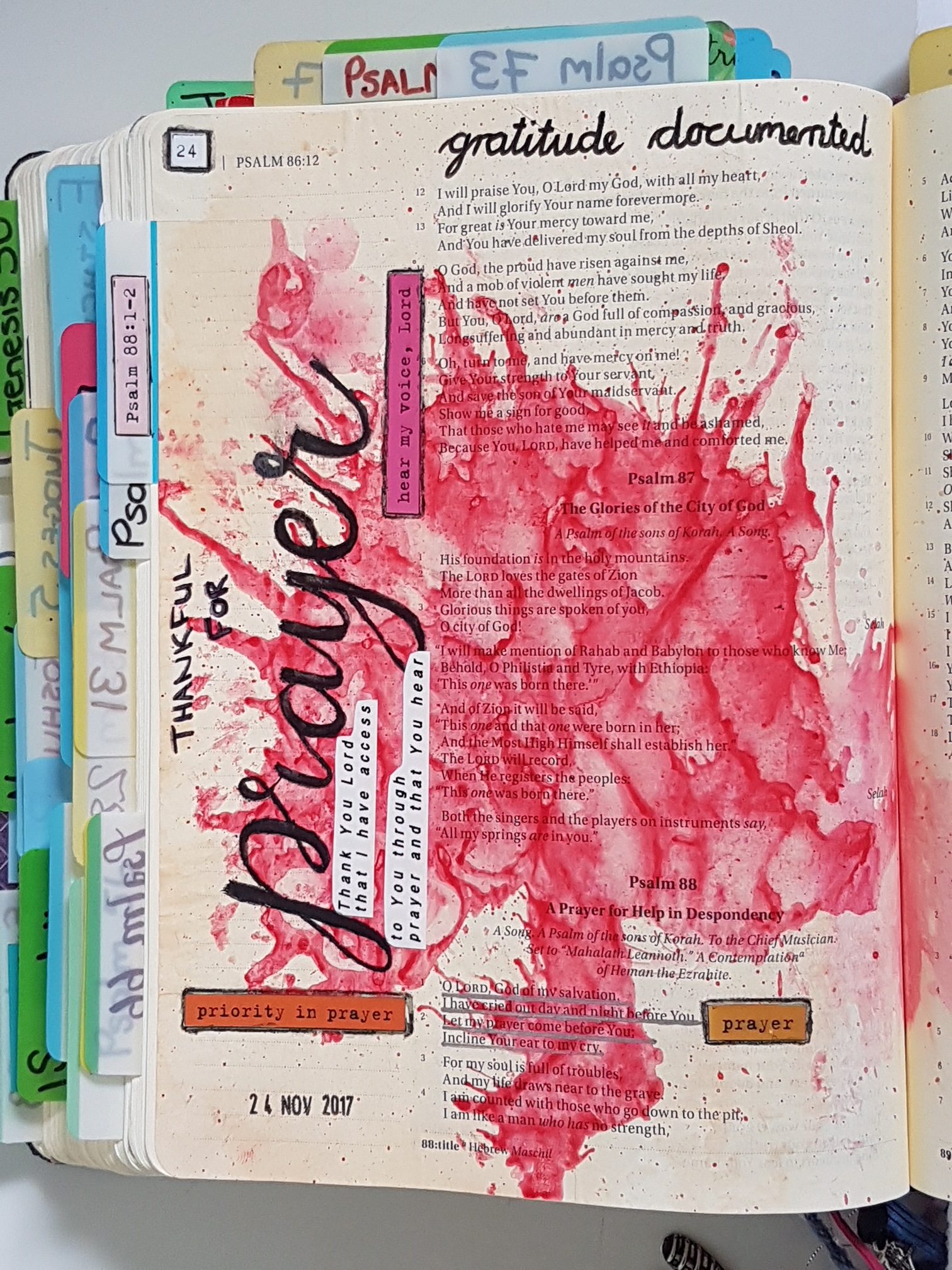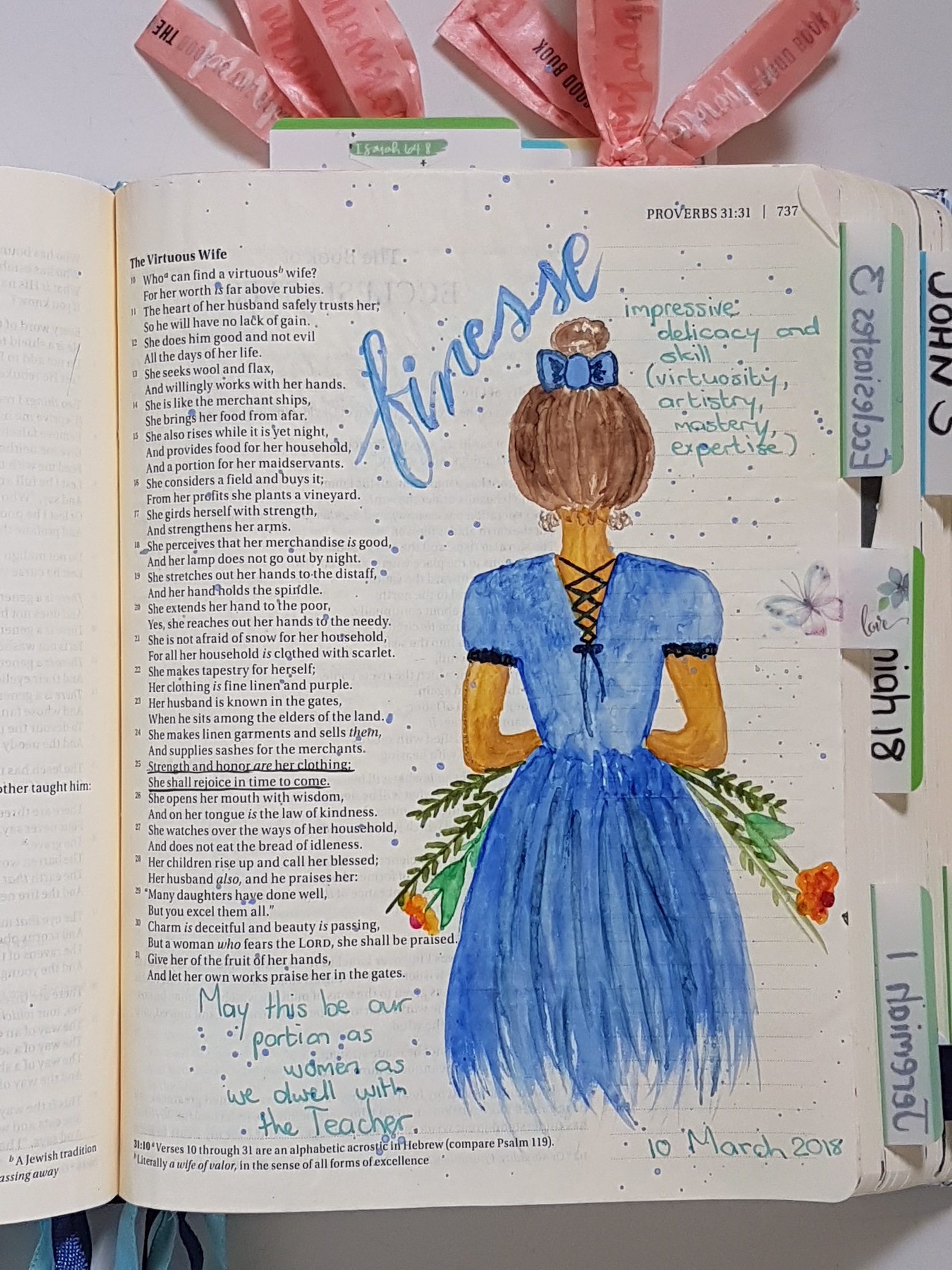 Currently I am in my second Journaling Bible. I have decided to make one for each of our daughters. My dream is that when I am gone, these would be my living love letters for them, where they can read what God was teaching me about life and peace and identity and maybe they will leave it to their children. I pray that they don't have to battle with identity and inner turmoil as much because the lessons I learnt from my time with God will be lifeline as they look at the illustrations and colors. I have put personal prayers for each of them in an envelope in the back of their Bible, and even when I journal, although it is always something God says to me, I now write with them in mind, knowing the prayers I am praying for and over them.
I still don't consider myself to be especially artistic, and I still experiment and learn from YouTube and Instagram on a weekly basis. Whether you can write beautiful words or draw or paint elegantly with a flick of your wrist or you do a color wash and add stickers and washi to your page, Bible Journaling is such a freeing experience as you discover that it is not all about the latest techniques or artist quality supplies. It is about the smudges in between and the revelations in the "AAHHHH" and "Uhm" and "ouch" moments. It is about sitting back and looking at what you created and seeing that you were created in the image and form and function of THE CREATOR. It is about spending time with Him, letting Him mold you to be even more like Him.
Bible Journaling has become the way my best friend Lindsey, who lives in the United States, and I connect even when an ocean separates us physically. I love the community of Bible Journalers! Each person's art speak to me as though I were in an art gallery on opening night, and their revelations of the Word encourages me to stay the course even when it is challenging. I feel like I have gotten to know so many truly remarkable people over the last 9 months as their pages tell their stories and their unique fingerprint on Bible Journaling becomes an inspiration to others who might be going thru something. Your page may be just what they needed to walk through and conquer. This is a mission field and a ministry and I'm loving every minute of it!