September 2019: Cathy Maher
Cathy Maher . .  looking forward to the blessings God has awaiting me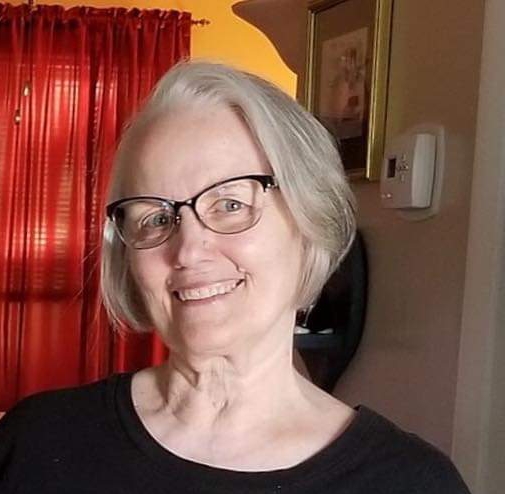 My adventure into the beautiful world of Bible Journaling began when I saw ideas people were sharing on InstaGram and wondered how they created such beautiful pages. That led to some YouTube searches in early 2015. I watched the steps they took and the various mediums they used. I found kits to order, downloads to print and make stickers, as well as books with ideas and how-to lessons. I've always enjoyed making truth cards using scripture, promises, goals and prayers and decorating with color and stickers. The transition into doing art in my bible came natural for me.
Then I discovered several companies that were publishing special bibles with larger margins and extra space to do art or script. The day I purchased my first journaling bible was a total joy. Today, some four years later I have about a dozen, including the new spiral bound bible.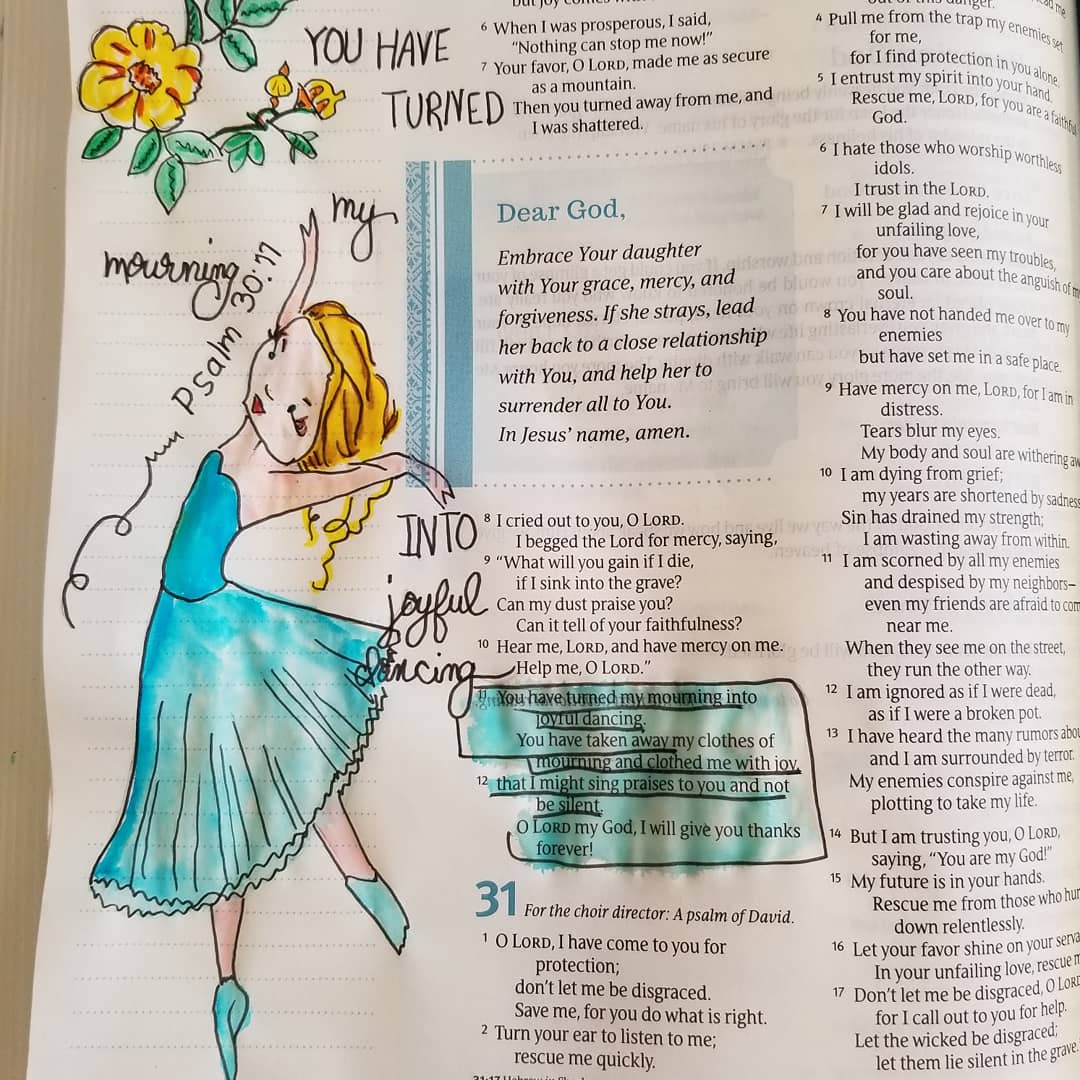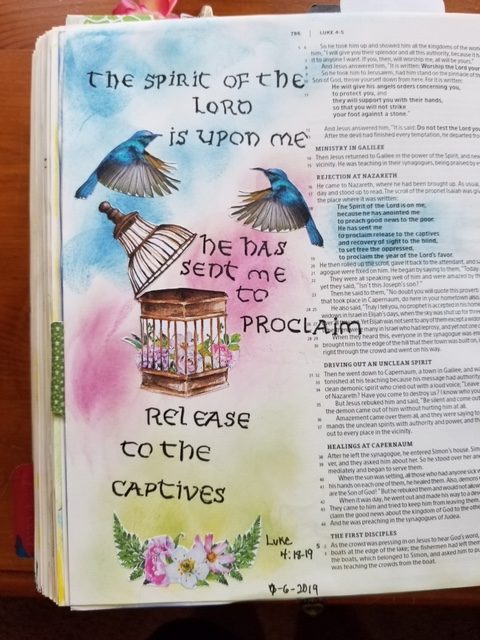 Hello everyone, my name is Cathy Maher. My husband, Joe and I (along with our beloved cat) live in a quaint country suburb of Chicagoland, called Ingleside. I am retired so I have free time to pursue hobbies and personal growth. I enjoy reading, writing and prayer walks. This is a delightful gray heron I painted who introduced himself on one of my morning walks around our pond.
Joe will be retiring in early 2020 and with hopes of moving to Arizona. Might say we're tired of Chicago winters, but it's more than that. I recently started writing my own Blog and my first post is about our desire to move out west and what God is doing to prepare the way. If you'd like to read it, you can find it at https://deeperwellsoflove.wordpress.com. I'd love it if you left me a comment there. My InstaGram name is jarojoylady, a nick name I acquired many years ago from church friends when God change me from sad and tearful to joyful and laughing. It seemed that for as deep as my sorrow ran before finding Christ, my newfound joy ran deeper still.
God has used Bible Journaling to help me continue to grow as a Christian. Participating in facebook groups can be a lot of fun, but my self-critical voice flared up and I found myself in a ditch comparing my art to others. It was a relief when the Lord got me back on track again by showing me not get too focused on other people's art or the amount of likes or comments I got. It's amazing how free I feel doing art for Him instead of to gain approval of others.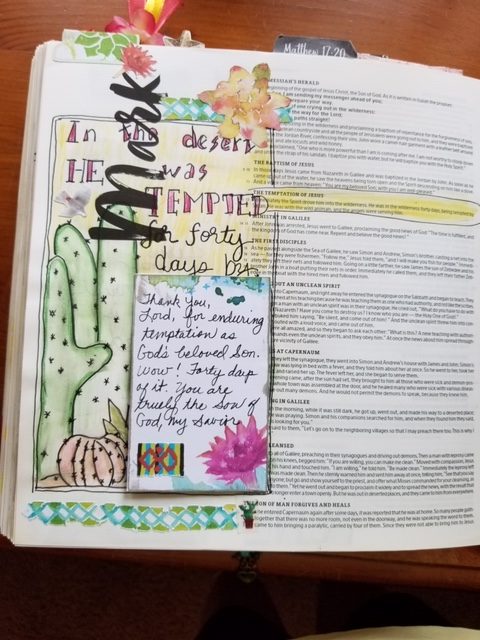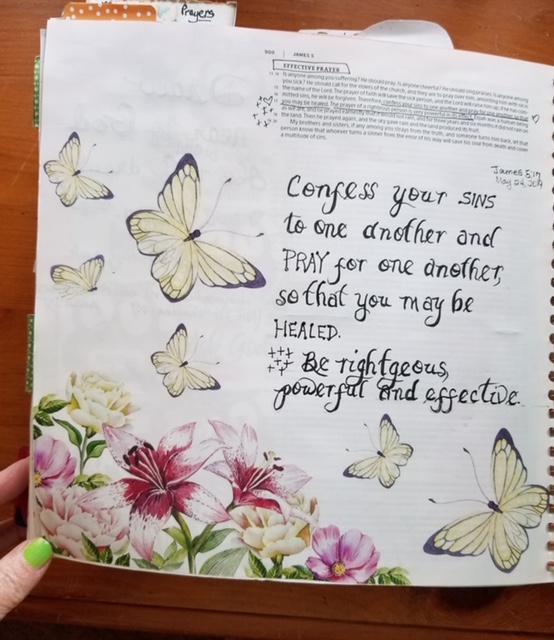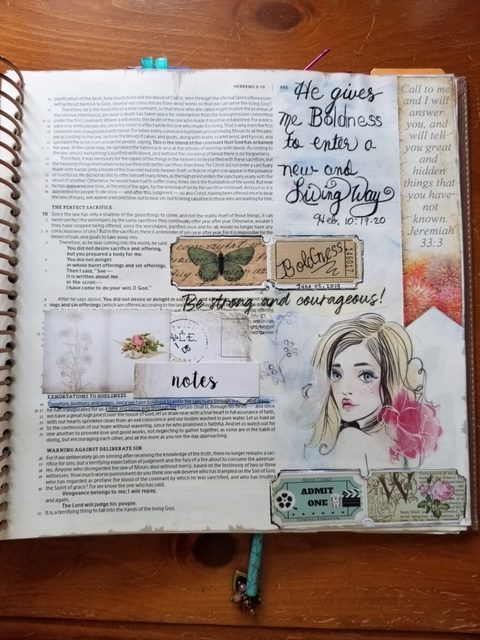 I don't know about you, but whenever I see new products and journaling kits, I want to order it all. Just being honest here. It's so exciting getting "happy mail." It quickly became an expensive hobby. Thankfully God worked all of that together for my good too. He showed me the error of my ways. I didn't need to have it all right now. I found the freedom to wait and to pick and choose the things that really helped me display what God was doing in my life.
Some artists struggle with a real fear of doing art in their bible, but I didn't. I dove right in and soon filled up several journaling bibles with stickers and printable and stamps and ink and paint.
Then I purchased the Illustrating Bible from DaySpring. Suddenly I was "afraid to mess it up." It was big and expensive and I felt intimated. Thanks be to God (again) for helping me to find some gorgeous permission pages to print out and use on the first two pages of my big, new bible. Once I completed them, I felt freedom again to fill the pages with art and journaling.
Bible journaling is all about getting into God's word and learning to apply it more. It doesn't need to be perfect.
I love Bible journaling and look forward to all the blessing and joys await me.