June 2020: Stephanie Kiesewetter
STEPHANIE KIESEWETTER
…giving myself permission to write in my bible or cover up scripture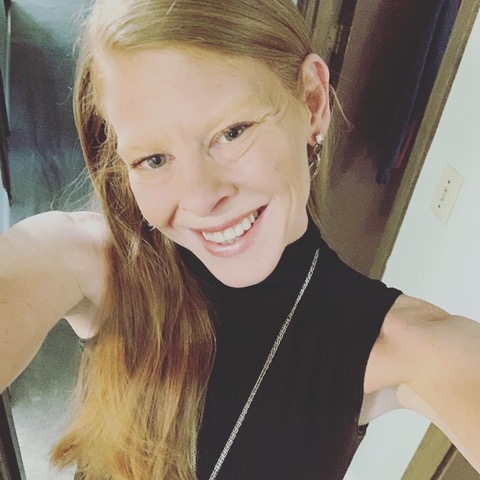 My name is Stephanie Kiesewetter. Creativity has been as essential as breathing for as long as I can remember. For years I satisfied my need for creativity by scrapbooking the lives of my nieces and nephews. As they got older, however, cute pictures became harder and harder to come by and I realized that I would need to find a new outlet for my creative endeavors.
When I first discovered Bible Journaling (several years ago) I thought is was pretty cool! I didn't allow myself, however, to really "jump in" because I struggled to give myself permission to write in my bible or cover up scripture.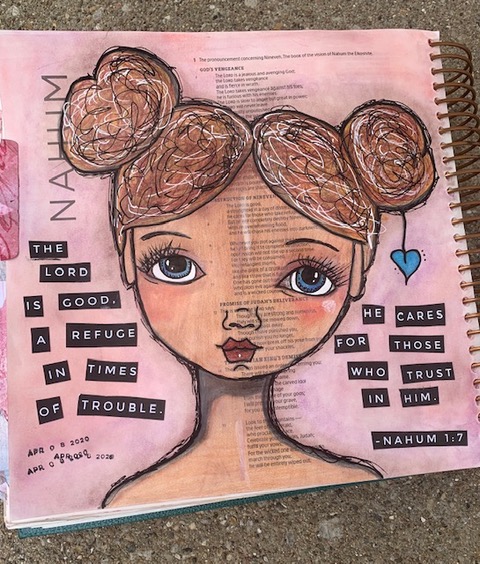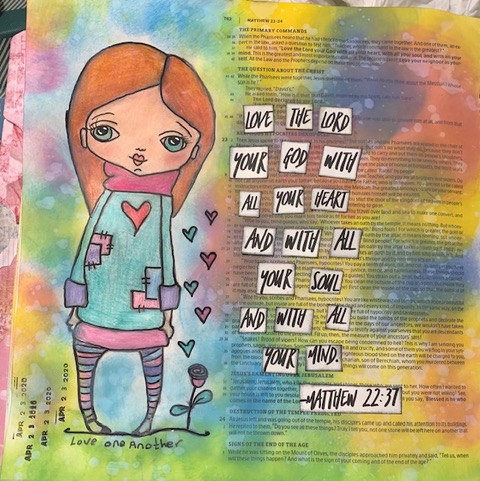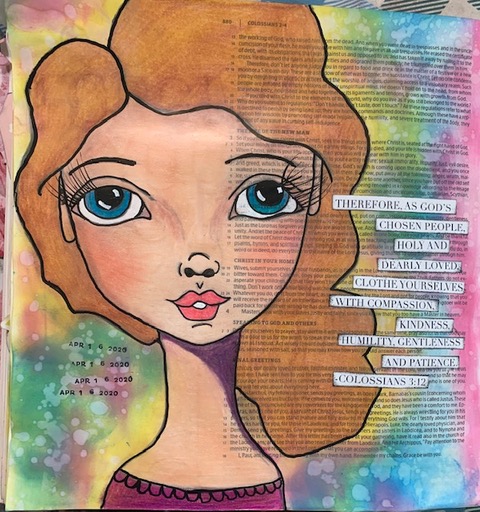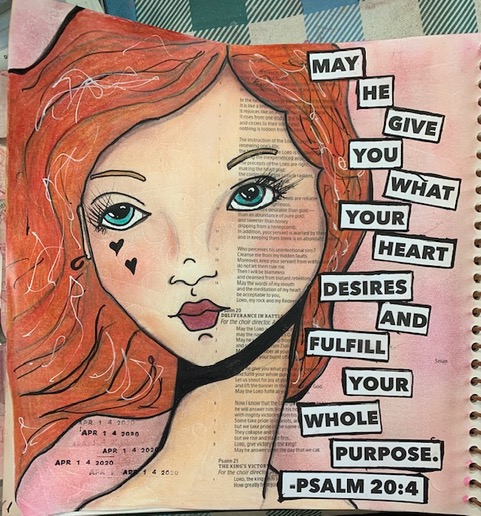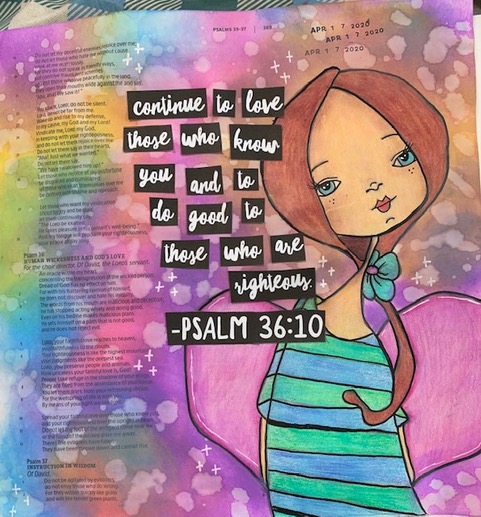 Despite the difficulty I had giving myself permission to color in my bible, I was intrigued enough to utilize elements of bible journaling in my K-5th grade Sunday School Class. With such a large age range I struggled with preparing lessons that were able to reach all the kids. By introducing Traveler's Notebook style journals to my class, the kiddos were able to write or glue in memory verses and decorate the pages using paint, ink, stickers and collage elements. My kiddos loved their bible journals and it made keeping such a large group engaged much easier.
Watching my class embrace this project really got me excited to more seriously consider doing more bible art in my personal life. Making the jump to actually coloring in my bible, however, was still difficult for me. The idea that the art in my bible had to be "perfect", in order to truly honor God, continued to hold me back.
Since I could not convince myself to "deface" my bible, I began purchasing Shanna Noel's 100 Day Devotionals. I became quite fond of them. Pulling out my paints and stamps and showcasing important bible verses and meditating on the message felt so good! I decided it was time to invest in a real "journaling bible"…but it still wasn't going to be easy for me to start, the fear of imperfection was still nagging at me.
For Christmas (2019), I received two Illustrating Bibles (from Illustrated Faith and Day Spring). Even with two bibles bought and made specifically for me to Bible Journal and Illustrate in, I never felt I had the time to devote to working in them in a way that I felt would truly honor God.
With State and National shutdowns due to Covid 19, I suddenly found myself with infinite time. The only logical solution during this crazy time was go to turn to the bible. I started keeping track of verses that inspired me and spoke to my heart. Then suddenly, I became inspired to crack open one of my Illustrating Bibles and start creating.
Bible Journaling has long intrigued me, but I have only just begun my journey. I have been blessed and humbled by the attention I have received thus far. I only hope to inspire others to push away their doubts and find comfort in the Word.
I leave you with a simple challenge: find one bible verse a day that speaks to you, focus and pray on that and let your creativity come to the surface… it is all going to be okay.