ANGELA ESAU:   
If Bible Journaling is what brings you to God's word regularly, then it's definitely not a waist of time. Be blessed.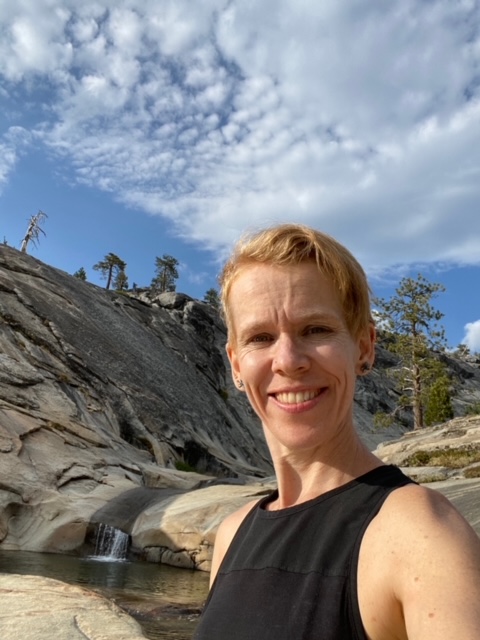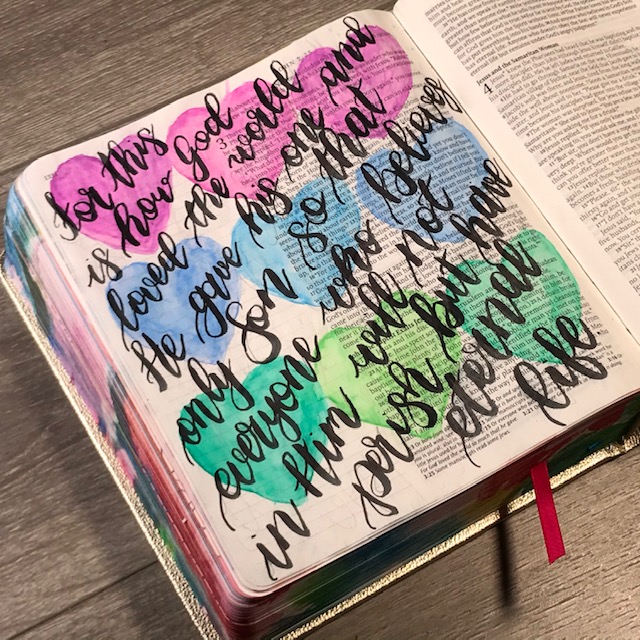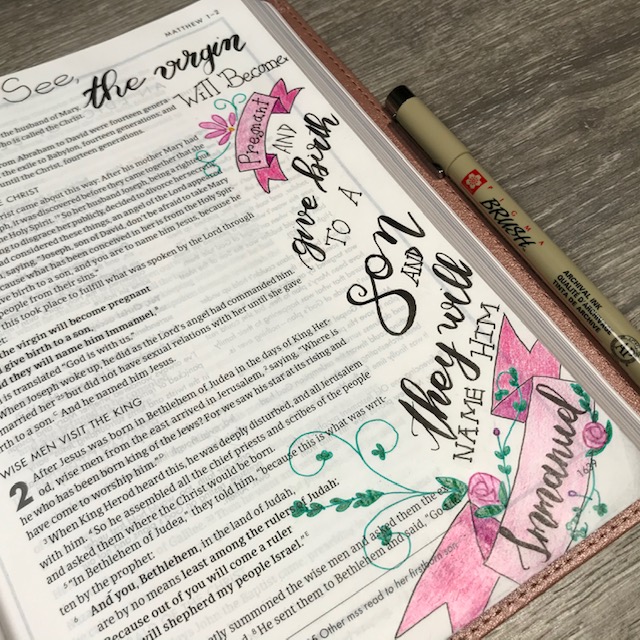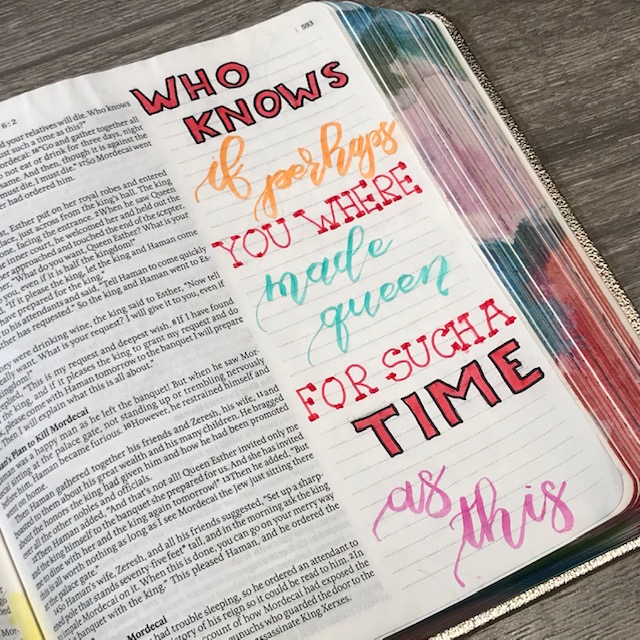 My name is Angela Esau. I live in California, USA, with my husband, and my children 17, 15, 13 and 11 years old. My creative profile can be found on Instagram as @bible_journaling_lettering.
I am a Personal Trainer and Nutritional Coach, training individuals of all ages to achieve and maintain healthy life styles. My professional Instagram profile can be found as @angelaesau.
My journey with Bible Journaling began in the spring of 2016. I was at a women's event at my church, and my friend showed me a devotional book she was so excited about. It definitely was a very cute devotional book by Darlene Schacht (@timewarpwife). I checked out her blog and that's where I saw all the drawings she made in her Bible. I ended up not getting the cute devotional book, but I was really determined to get one of those journaling bibles.
I began searching the word Bible Journaling on the web, and I was stunned to find so much information available already, plus an infinite amount of pictures on Pinterest. Back then I was not on Instagram yet, so all my inspiration on Bible Journaling came from Pinterest for sure. Since my birthday was approaching, and it was the year I turned 40, I gifted myself with an ESV Journaling Bible. I was thrilled.
Now believe me, I got that Bible in May, and it took 6 months for me to actually do something that looked like Bible Journaling inside my own Bible. I was so scared I was going to mess it up. I'm not good at free hand drawing, much less painting, so I began thinking that Bible Journaling was not for me.
Finally, in November, I drew my first picture, a Nativity Scene. I didn't really draw it free hand, but I printed a sketch from the internet, then I traced it into the Bible and colored it in. There! That wasn't so hard after all, lol.
From there I kept doing exactly that, tracing pictures, using my own handwriting, always coloring in with pencils and marking with Micron pens (I quickly figured that Micron pens don't bleed through the pages).
In 2017 I got a new job and suddenly I lacked time to journal in the Bible. I drifted away from it for almost 3 years, unfortunately. I began Bible Journaling again on April 2020, during Covid lockdowns. I lost my job, and lack of time was certainly no longer a problem.
In the summer of that year, I started learning Modern Calligraphy, using brush pens by Tombow. I began following @thehappyevercrafter, and through her basic course I learned how to use a brush pen and how to form the letters correctly. Once I felt confident forming letters and writing words in brush pen calligraphy, I began writing with brush pens in my Bible too.
Also, last Christmas I was given a gift card, and I spend it on two new bibles, the Inspire Prayer Bible and the She Reads Truth Bible. Both of these editions are so rewarding to work with. The Inspire Prayer has lovely illustrations and a very wide margin. The She Reads Truth Bible has a narrower margin, but no lines. I work back and forth on all bibles.
My word of encouragement to anyone who wants to use creativity inside their own Bible pages is this: just go ahead and do it! It's ok to buy a new Bible. It's not silly, it's not unnecessary. Bible Journaling doesn't have to be a work of art, but if you want to, go for it. Some pages will look awesome, others not so much. It's ok. Try something new and make mistakes. It's ok. Tracing pictures is fine, only remember to acknowledge the person who inspired you, if posting on social media. It's ok to cover the words, it's ok to day dream while you are working on a page. There's no danger in Bible Journaling. Enjoy the process.
If Bible Journaling is what brings you to God's word regularly, then it's definitely not a waist of time. Be blessed.
My Instagram profiles are:'
@angelaesau
@bible_journaling_lettering
@angelacrochetandbeyond
My fitness YouTube Chanel:
I also have another long time hobby, since when I was kid, crochet.
I have a YouTube Chanel about that too: